關於祥懋
Xiangmore Technology is an ODM company which combines traditional techniques with advanced technology through our experienced background.
INTRODUCTION
Name: Xiangmore Technology Co., Ltd.
Established on: 06/24/1994
Tel: +886-3-362-3677
Fax: +886-3-362-3655
Capital: 40 MillionTWD (1.3 MillionUSD)
60 Employees
Factory size: 51,000 ft2
Address: No. 46, Lane 540, Heping Road, Bade District, Taoyuan City, Taiwan 33465
ODM Products: Stamping, Progressive Stamping, Aluminum Extrusion, Electronic/Automobile/Computer parts, Tooling Design
MANAGEMENT PHILOSOPHY
Innovation. Quality. Responsibility.
Innovation- With our more than 20 years' experiences in the industry, Xiangmore Technology combines traditional techniques with advanced technology to surpass our clients' expectations. We believe our job is not limited to manufacturing but also to help our clients create new demands in the market.
Quality- Besides maintaining our solid foundations at a high standard, "quality" is also one of the most important value that Xiangmore upholds. As each product goes through three stages of quality control, we ensure that our yield rate is high and constant.
Responsibility- Since our President founded the company, Xiangmore has always followed the rule: "being responsible is the number one step to run a business".
ORGANIZATIONAL STRUCTURE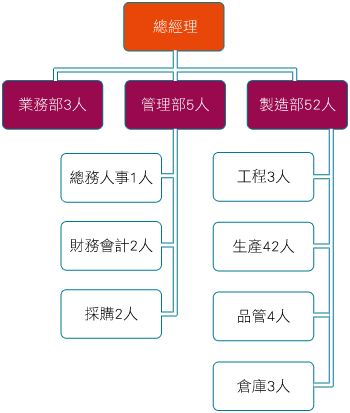 PATENT & CERIFICATES